Astrology lights the path of life with the science of time. Every second in a minute has a certain meaning, quality and significance. We know very well that life is made up of various ups and downs. We should always be ready for all these things. What if someone is there for you who can guide you through them? What if someone can exactly let you know when and what should be done at the particular point of time? Yes, this all could be possible if you are consulting good astrologers. Abhimantra Astrology, the Best Astrology Centre can do this for you!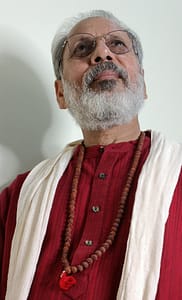 Dr. Abhimantra Harivansh
Dr. Abhimantra is a dynamic person with abundance of astrological knowledge. He is not a conventional astrologer, keeping himself away from all kinds of superstitions, he has complete clarity and a true sense of his profession. He is spreading his teachings in a practical way to the people who are looking to explore this world. He uses graph and idioms to explain the concepts and because of which his students are not pressurised to mug up the things. It is a very interesting technique in itself and which makes him stand apart from others as a teacher. Apart from teaching, he studies horoscopes and do predictions on demand. He has researched on around horoscopes and the prediction has always been 99.9% correct. In case of someone looking for any remedy to avoid any dosh, he also suggests remedy which is very pure and no waste of time and money. He guides you very sincerely and honestly. No mincing words or no false, unnecessary pooja or upaay.
Subhash Sharma
Respected divine Mr. Subhash Sharma is a traditional Acharya. His father was an accomplished Acharya. He attained God Hanuman Ji's accomplishment and established Hanuman Ji's temple in the Kailash area East Delhi which is named as 'Mansapurna Hanuman Mandir'. This mandir fulfills all your wishes. Subhash Ji did vigorous penance like his father and attained all the powers his father had. Along with this traditional knowledge, he graduated from Delhi University. His eminence is his superiority. His prominence is unaccountable in the North India. Moreover, he successfully completed Anushthans that were said impossible by the people and fulfilled his dreams. This is the indicator of his superiority and God's grace. He is a benevolent person. He go by the saying 'Kar Seva Narayan Seva'. He did online anushthans in the covid times and people got the positive results. This is the power of his practice and devotion.